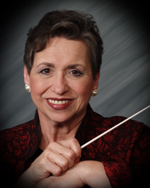 Mrs. Karen Nevins, Artistic Director
Bachelor of Music Education (Vocal) - Eastern Michigan Unversity (1993)
Master of Arts in Performance - Eastern Michigan University (2005)
"Music is like a feather on the breath of God" (Hildegard von Bingen)
Why Music? ...Why on earth not?
The Science of Music and the Technicalities of Singing
Music feeds the soul and clears the mind. It provides sanction from daily conflicts and promotes creative thinking. In today's struggle to preserve music and the arts, changing curriculum requirements steadily challenges us to stand firm in support of the arts for generations to come. As school music programs are being cut and college music degree programs are being cut, I look at my own life and the lives of my children to ask, "what would life be without music?" While I was an instrumentalist in my early musical life and the music was beautifully gratifying, it was my love of poety and the harmonies of voice that peaked my love of choral music.

The voice is not a handheld instrument. The voice relies significantly upon the subtle manipulations of soft (and hard) tissues in the bocal and pharyngeal spaces, supported by posture and breathing technicalities. It is not an instrument to be easily mastered, and it is certainly one that cannot be abused. Singing is, in fact, very scientific. The mastery of singing can take years of private and group study. As the science of singing is being mastered, one must also develop a sensitivity for musical expression as it relates to the text. To sing well, comes from a passion for self-expression and personal growth. It requires significant self-discipline, tenacity for proper tonal placement and, ultimately, resonant excellence with a drive for performance perfection. The voice is an instrument of many timbres--one we can hold close to our hearts and carry with us for a lifetime.
In some, the passion for singing texts is so great it cannot be shaken. Why else--aside from a deep passion for putting prose to music--would one thirty-eight year old mother of three children have exhausted all musical options at church and community to find herself driven to pursue a grueling 5-1/2 year Bachelor degree program at a time when mothering tasks also included multiple athletic seasons and band and choir booster responsibilities? For this teacher, fulfilling her life's dream of making beautiful music would ultimately allow her to share her passion with her older siblings, her children, and eventually her grandchildren--not to mention a wealth of eager students. Any child who feels emotionally (and spiritually) fed by his/her music should be encouraged to do the same--and hopefully at a younger age!!
Music for Expression
Our society utilizes music to celebrate every life event. In fact, music has existed in every documented historical culture, as a vital means of cultural expression and communication. In medieval times, music was NOT taught as one might think--with Reading and Language. I believe it was Socrates who believed that music be appropriately taught along side astronomy, geometry, and arithmetic. After all, music is the science of sound and requires the application of precise mathematics. Needless to say, reading is integral to following musical notation and syllabic text. Additionally, all languages are utilized in choral/vocal music.
Integrating Subjects
Choral music is the one elective that permits hands-on integration of the science of voice (anatomy), acoustics and sound (physics), mathematics through rhythmic counting and cognitive subdivision, classic and contemporary poetry, English and all cultural languages, history and trends through the ages, varied cultures, the application of the International Phonetic Alphabet for unification of vowels, rhythmic application of the text and syllabic stress, improved speech articulation, recognition of historical Italian musical terms, cultural dialects, phrase expression and dynamic sensitivity, tone painting, cognitive multi-tasking, muscular/physical exhertion through bocal and pharyngeal soft-tissue coordination, coordinated breathing and oxygenation, and rhythmic movement. Music in the competitive performance style also teaches significant life skills, self-respect, and the gratification of reward for commitment toward the team effort. Over the decades, music that was once identified and taught as a science or math, is considered an elective today. Interestingly, for many students it is often their music class that brings them to the school each day.
As state mandates override our childrens' choices for electives with changing curriculum, I can still recall how a single piece of music or a beautifully tuned chord peaked the sensitivity in me, bringing tears to my eyes as a young musician in band and choir. In my precious Interlochen Arts Academy All-State experience as a high school sophomore, the haunting tones of a bassoon playing in a nearby woods impressed a lasting memory that I will carry to my grave. Likewise, my daughter, Heather, says her State Honors Choir experience changed her life.
Music for Inner Peace
Today's young people experience many inner struggles. It is my hope that when my students enter my classroom, they will become capable of leaving their personal struggles outside the choir room doors. With this, they will hopefully allow our beautiful texts and expressive music to provide them a better sense of inner tranquility and aesthetic accomplishment. Music should provide increasingly greater personal fulfillment and an appreciation for the importance of keeping music in the school for future generations. I've been told by many adults that their high school music experiences are the memories they hold most dear to their hearts into adulthood. Why then, do we music educators find ourselves struggling to assure our music programs survive? If you support the performing arts and the fine arts, recognizing the importance including these experiences in the education of our youth, please do speak out to your politicians in support of the arts.
Teacher, Clinician, Adjudicator
Below are the vocal/choral clinician and adjudication offerings of Mrs. Karen Nevins, LHS Director of Choirs:
Assurance for developing healthy vocal technique
Veteran Choral Adjudication and Clinician Specialist;
Private and group instruction
English and Foreign Language Diction Specialist.
International Phonetic Alphabet used for vowel modification and healthier tone
Veteran Vocal Solo Clinician Specialist
Sensitive musical interpretation
Choral and Solo sightreading
Church Choir Clinician